STOP TO SMELL THE ROSES.
THEN SELL THEM EVERYWHERE.
Add Multichannel E-Commerce Listing and Order Management to YOUR platform and YOUR user interface in 60 days or less.
More features.  More customers. More Profit.

Their API proved to be straightforward and flexible… API function and process availability was extensive. Their documentation was comprehensive and they continuously updated it in response to our use cases and questions. They made themselves readily available to assist us including providing both formal and ad hoc training and extensive live support. The scalability of their platform was proven after several hundred thousand users were added to the pilot over a short time period…. We would recommend them to others looking to extend their platforms to incorporate multichannel platform management.
Yi Qian
STANDARDS BASED
We built our own user interface on top of the same API we're exposing to you. From adding new users to multichannel authorization, to listing and order management, all functions are available via an easy to use and understand REST based API.
COMPLETE DOCUMENTATION
Our documentation includes discussions of how each feature works along with examples and expected results.
EXTENSIVE SUPPORT
As part of our onboarding process, you'll receive direct access to our development team to answer questions and assist with your integration.
ENTERPRISE READY
We support sellers with over a million products and millions of dollars of sales. You can to! Our platform is layered on Amazon Web Services allowing unlimited and on-demand scaling to meet the requirements of your growing customer base.
MAKING THE COMPLEX SIMPLE
Making the "build it vs. buy it" decision for adding multichannel listing and order management? Online channels are highly complex and change regularly. We normalize your access and keep up with the changes so you don't have to. You focus on your own platform development, and we do a great job of focusing on multichannel.
PROVEN TO WORK
After the deployment of the MaaS platform on Alibaba.com's reseller portal we had several hundred thousand users sign up within a small number of weeks. We scaled. We delivered.
Maximum Uptime, Maximum Growth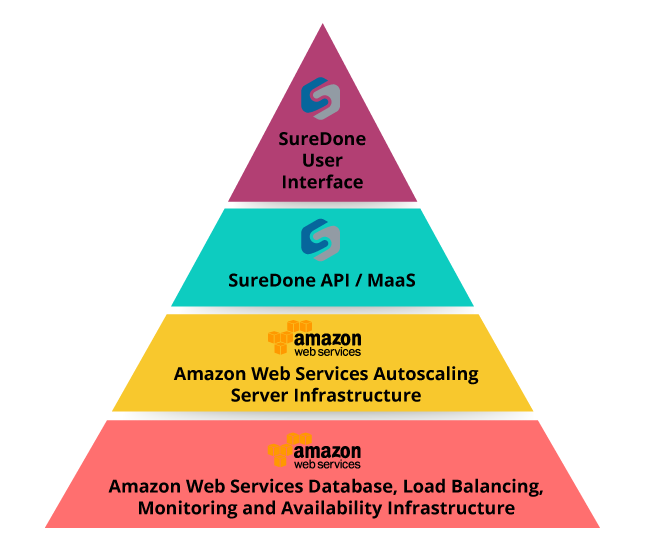 Our own user interface is built on top of the SureDone MaaS plaform, and our infrastructure is built on top of the industry leading Amazon Web Services platform providing unparalleled availability, scalability and security.